Krystal Dunham, BN Intern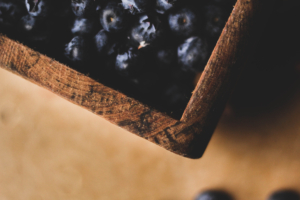 Summertime is the best time to explore in-season fruits.
Blueberries are in abundance and offer a wide variety of options when it comes to meals and snacks.
At 80 calories per one cup serving, blueberries provide a great source of antioxidants, fiber, vitamin C, vitamin K, and magnesium.
A handful of blueberries can be added to yogurt, mixed in pancake or waffle batters, and even pureed to compliment a salad vinaigrette. The possibilities are truly endless.
Blueberries are rich in flavonoids (mainly anthocyanidins), which have anti-cancer properties. The anthocyanins and polyphenols in blueberries are major functional ingredients for preventing disease.
A 2017 study in Pathology & Oncology Research, demonstrated that blueberries also exhibit inherent abilities to prevent carcinogenesis, inhibit the proliferation of neoplastic cells, and reduce the risks of recurrence in patients in remission. 
Many cancer research studies support that blueberries may be one of the best functional fruits in the health role of preventing chronic disease. Anthocyanins encourage our immune system to function properly, prevent DNA damage and regulate our hormones.
KD
Davidson, K.T., Zhu, Z., Balabanov, D. et al. Pathol. Oncol. Res. (2018) 24: 733. https://doi.org/10.1007/s12253-017-0376-2
https://www.banisternutrition.com/wp-content/uploads/2019/05/IMG_9297.jpg
3456
5184
Banister Nutrition
https://www.banisternutrition.com/wp-content/uploads/2014/09/BN_logo_650x156.png
Banister Nutrition
2019-05-19 11:44:28
2019-05-19 11:44:28
Blueberries help in the fight against cancer.